A glimpse of what to expect during the forum week.
The times in the schedule are in Central European Timezone (CET). If you have any questions, feel free to contact us @  welcome(at)networkforum.eu.
We have created a Google calendar for the week to make it easier for all of us to manage the timezones and get the starting times right: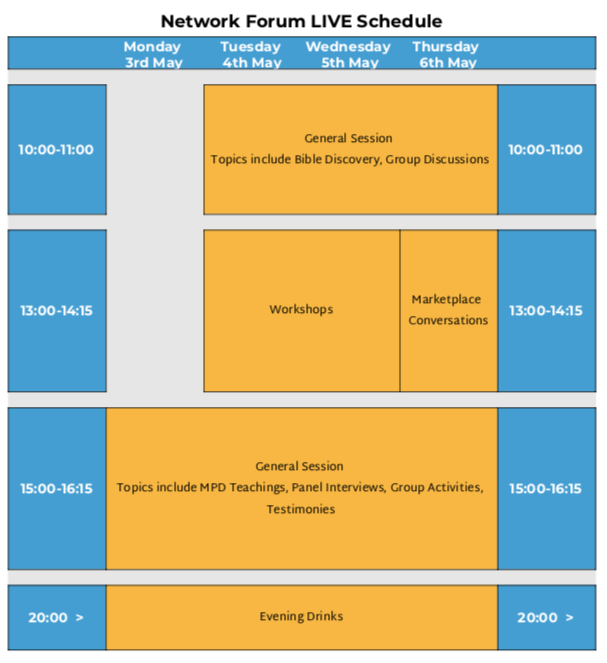 You can select among several workshops. In case you're attending with your colleagues, we recommend you decide among yourselves who attends what to get the most out of it. 
1. Building a Partnership-Minded
Culture
Develop a clear understanding of steps needed to integrate a support raising culture into your organisation or team.
2. Strengthen Partnerships through Communication
In this workshop we will discuss how to create good and easy communication between your colleagues and their partners. We will examine different methods of communication and its impact on relationships with our partners.
We remember stories we're told and they engage our emotions much more than facts alone. The S.T.O.R.Y. acronym will help you to train others in effective story-telling.
4. The Vision-Driven "Ask"
How can we help our colleagues to learn to begin offering potential partners vision driven opportunities instead of asking to simply meet an immediate need? We will look at "the ask" for financial partnership within in a broader partnership.
5. Broadening Your Base – Asking for Referrals
Learn how to equip your ministry workers in broadening their contact base by asking for referrals.
6. Coaching Skills for Personal Support-Raising
Learn the basic elements of a coaching session so you can equip others in your organisation to help others overcome barriers in personal support raising.